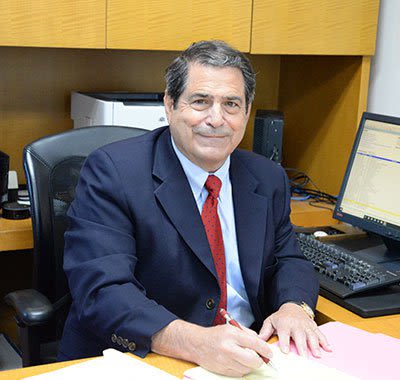 Stephen G. Linder is a lifelong resident of Rhode Island. Born in Providence, he graduated from Hope High School and received his B.S. in Economics/Finance, from the University of Rhode Island. Shortly thereafter, he received his J.D. degree from Suffolk University Law School and was admitted to practice in Rhode Island in both the State and Federal Courts.
He is a member of the American Bar Association, the Rhode Island Bar Association, the American Trial Lawyers Association, and the Rhode Island Trial Lawyers Association.
In 1984, Governor Garrahy appointed Mr. Linder to serve on the Medical Malpractice Legislative Commission. In addition, he has served on various committees, such as the Superior Court Bench/Bar Committee of RIBA and the Rhode Island Bar Journal Committee. He has also been appointed an Uninsured Motorist Arbitrator for the American Arbitration Association.
For 27 years, Mr. Linder was the host of a local radio call-in show "Legal Tips." On that show, he answered legal questions for everyday Rhode Islanders and guided them on the best ways to go about resolving their personal injury, family law, and malpractice cases. When you work with Mr. Linder, you'll see that he is still every bit as committed to helping people when they need it most.
Areas of Practice
Personal Injury

Medical Malpractice

Legal Malpractice

Professional Malpractice

Nursing Home Abuse

Death Claims

Family Law

Divorce

Child Custody

Property

Employment Law

Labor Law

Motor Vehicle Claims

Chemical Exposure

Settlement Agreements

Slip and Fall Injuries
Bar Admissions
Rhode Island

U.S. Federal Court
Education
Suffolk University Law School, Boston, Massachusetts, 1966 - J.D.

University of Rhode Island, Kingston, Rhode Island, 1962 - B.S.

Major: Economics/Finance
Professional Associations & Memberships
United States District Court for the District of Rhode Island

First Circuit Court of Appeals

American Arbitration Pane (Former Member)
References
Professional Associations and Memberships
American Bar Association Member

Rhode Island Bar Association Member

American Trial Lawyers Association Member

Rhode Island Trial Lawyers Association Member

American Arbitration Association Uninsured Motorist Arbitrator